A picture really is worth a thousand words…
It only takes a quick glance for someone to evaluate what they see and form a positive or negative judgement. In fact studies show that viewers generate an opinion in the blink of an eye.
Research revealed that the brain makes decisions in just a 20th of a second when viewing a webpage.
The study, published in the journal 'Behaviour and Information Technology', also suggests that first impressions have a lasting impact.
Researchers believe that these quickly formed first impressions last, because of what is known to psychologists as the "halo effect".
Gitte Lindgaard of Carleton University in Ottawa, Canada, and lead researcher of the paper says:
"If people believe a website looks good, then this positive quality will spread to other areas."
As websites increasingly jostle for business, Dr Lindgaard added that companies should take note.
"Unless the first impression is favourable, visitors will be out of your site before they even know that you might be offering more than your competitors," she warned.
Before your guests decide to book with you, the impression they get about the type of accommodation and service you offer, will be from the pictures on your website. If there are few or no pictures to look at, the chances are, they will move on.
Your accommodation may boast one of the best views in the area, or you may have spent time, effort & money on the interior design. But if the pictures are poor, unprofessional or unappealing, you could risk losing potential customers in an instant.
Therefore, the photographs of your holiday let are essential for success in drawing in new guests.
Sarah Kay Photography specialises in all types of accommodation photography & styling. Here Sarah shares some of her tips for creating photographs that will bring out the best in your holiday let & help you use the power of images to increase your bookings.
Top tips for photographing your holiday let:
Second to hiring a professional, I've put together these tips. I'm assuming you have some knowledge of how to use your camera settings out of automatic mode, although the tips will still apply even if you are using a very basic camera to photograph your holiday let. I'm providing practical tips rather than technical advice.
Tip no 1. It may seem obvious but don't forget to de-clutter every room. This includes removing fire extinguishers, leaflets, safety signs, any similar items. It needs to speak "Holiday Home" not "Safety Zone" although I am aware this is important, lets face it, these things are not attractive in photographs!
Tip no 2. One of my pet hates is wires/cables dangling all over the place! Wherever possible I always try to hide them either by unplugging & removing all together with things like kettle bases or wires from other appliances or in the case of lamps which need to be switched on, I will tuck the wire behind furniture or using masking tape to gently stick them out of the way; always being extra careful of paintwork/wallpaper of course!
Tip no 3. Tidy & straighten all curtains, blinds, bedding, sofa cushions. Iron them if necessary, there is nothing worse than creases & crumples that stare back at you in photographs!
Tip no 4. Personally, I always like to have all lights switched on in my shots. I feel it gives the image added shine and sparkle. Depending on the natural lighting in your holiday let, you may want to experiment & see which you feel looks best.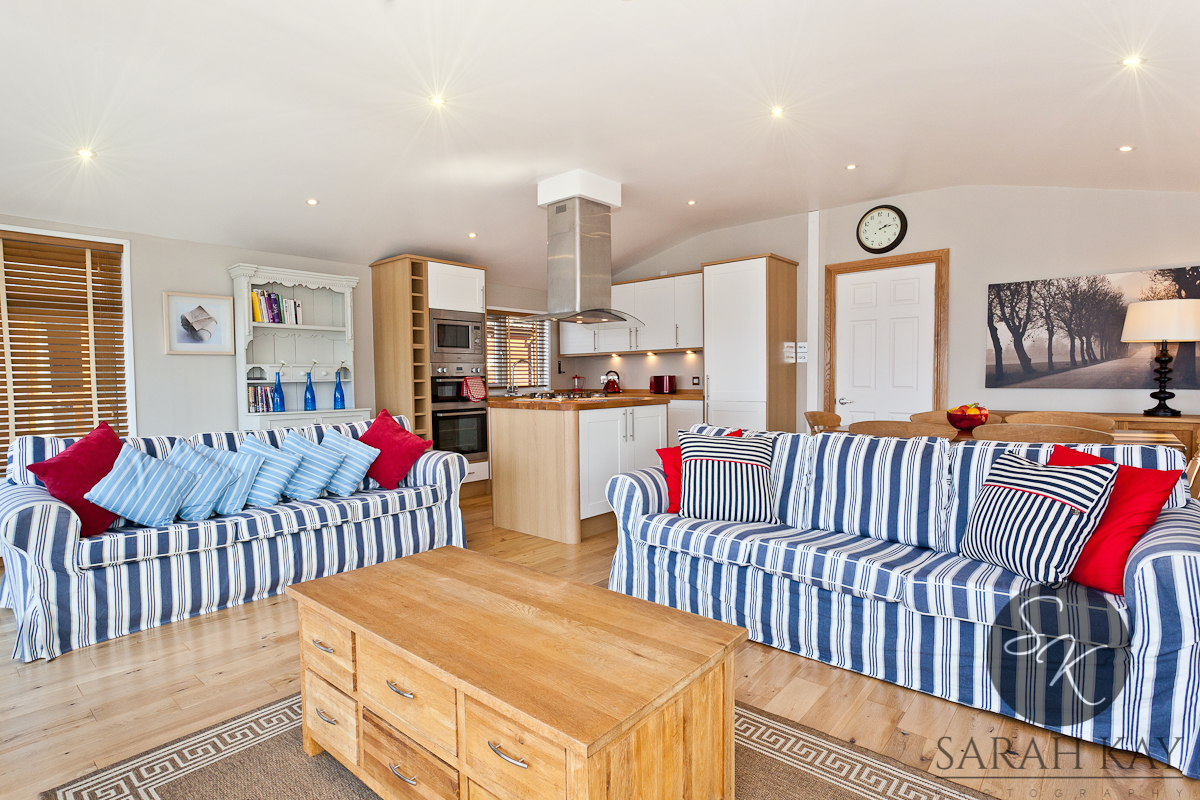 Tip no 5. Please, no toilets in shot. I'm not against photographing bathrooms, some look great. If you think it will be beneficial to photograph your bathroom, do try & avoid the toilet! If this is not possible, please please ensure the lid is completely closed and there is no bin or toilet brush in sight! Eeek!!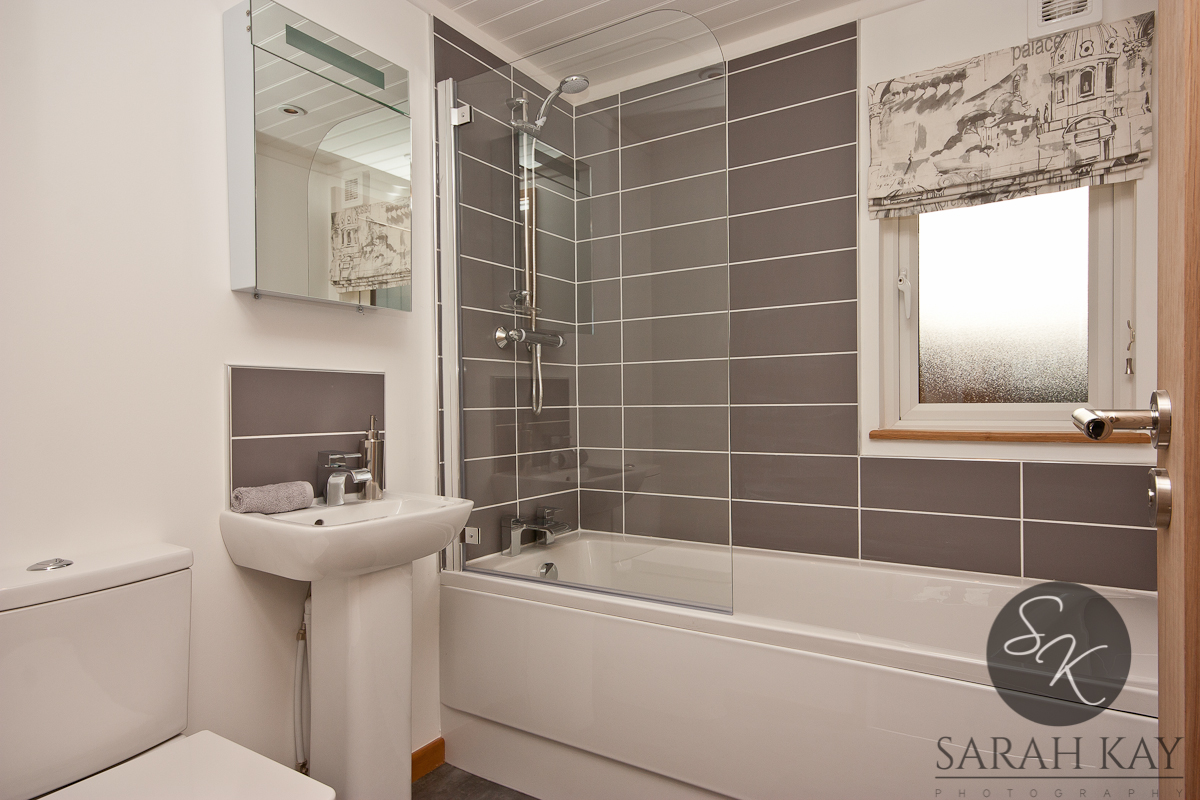 *Added tip *Take a shot of a detail in your bathroom rather than the whole room. To give a taster of the style of the bathroom. The viewer can then create an idea of the whole room just from that one shot.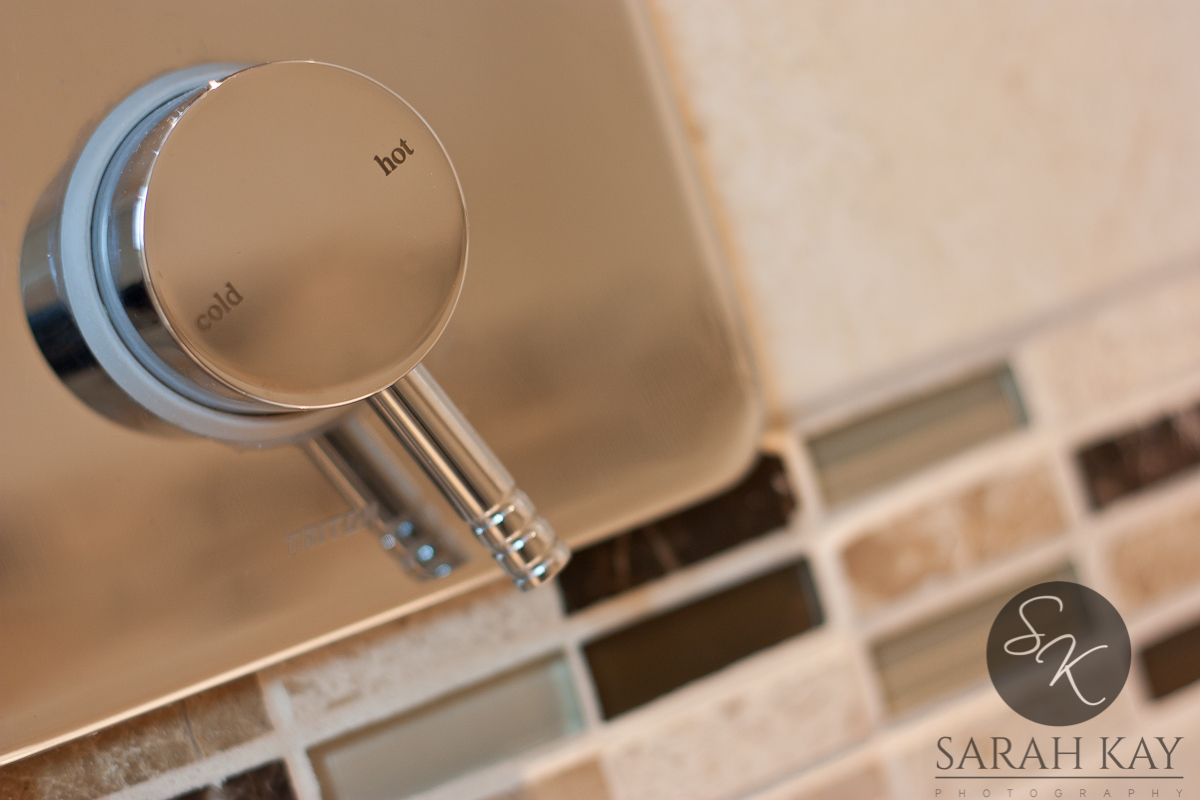 Tip no 6. Take some shots at dusk or the hour when the sky takes on a blue hue. I suggest trying both interior & exterior shots as the results can be lovely. Ensure all lights inside & out are switched on and use a tripod to keep the camera steady as it will need to use a longer exposure time which will be difficult to hand hold without blur. If you don't have a tripod, any stable surface will do, just so the camera is still.
*Added tip: Use the timer delay so the camera has time to be still after you have pressed the shutter.
Tip no 7. Think about your target market and dress your rooms accordingly. Romantic getaway? Champagne & chocolates will do the trick. Family fun break? Picnic and tennis rackets will attract these potential guests to your page.
*Added tip: Less is more, never over dress the room, or it will look cluttered.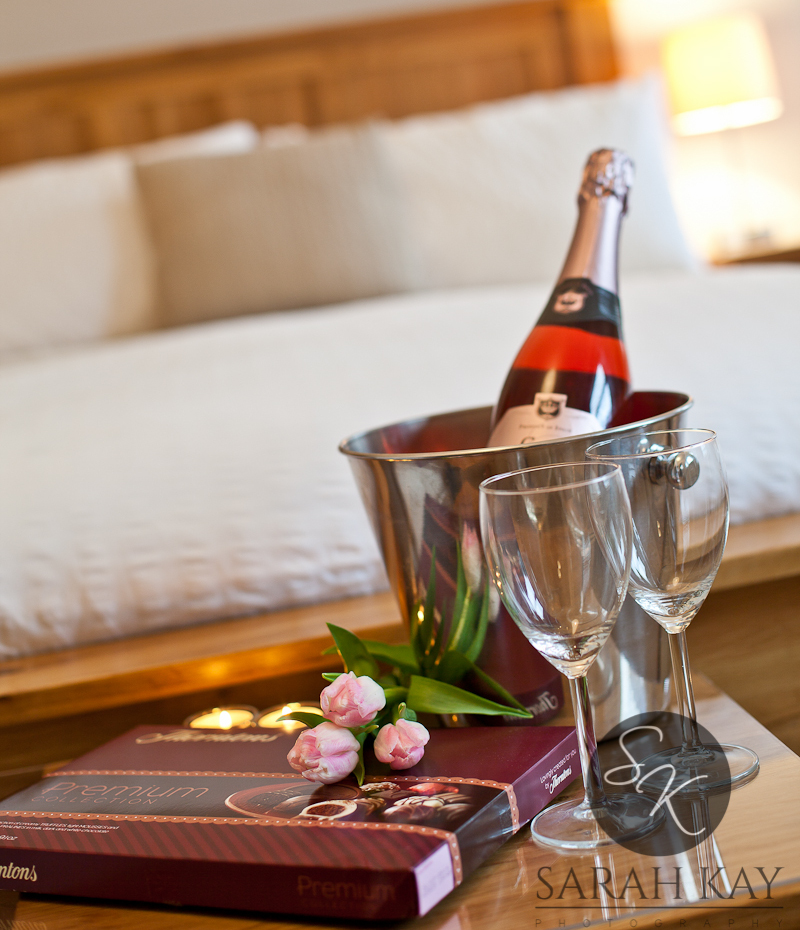 Tip no 8. Remember the reasons that people come to stay in your property. Is it the stunning view? Is there a fantastic garden? Think about it's unique features and photograph them.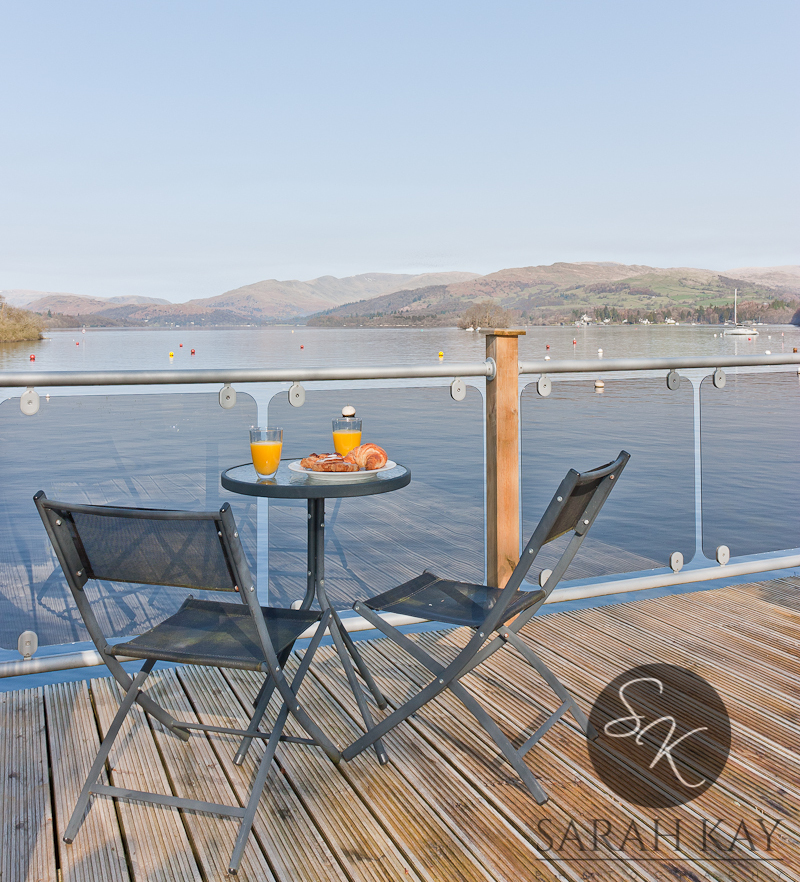 Tip no 9. Ensure your outside areas are looking tip top. Hanging baskets flourishing, decking or patio swept and free of weeds, grass trimmed and looking neat.
Tip no 10. Finally, take your shots. Study each image for imperfections as mentioned above. Does the furniture need moving to create better composition for the viewer? Have all wires been hidden & soft furnishings straightened? Would the picture look better if taken from a different angle? Try every corner of the room, some will look "right" some won't; again, experiment with this.
*Added tip. Save time and hire a professional photographer, ensuring they will take care of all the points mentioned above. It's not just the click of a button! I always say, during an accommodation photo shoot its 10% photography, 90% preparation! And then there is professional editing… which is another story all together!
Thanks for reading. I would love to hear from holiday let owners with any questions or suggestions you may want to share.