74% of people on Pinterest use this social media platform to plan their future. 93% of people say that Pinterest has influenced their purchase decisions.¹ And the most browsed and pinned categories are Food & Drink, DIY, Home Decor, Holidays & Events and Travel.
All of which make it an ideal platform to help market your holiday rental.
But not only is it effective, it's one of the most straight forward social platforms to use. All you need are good quality photos and a little bit of know-how.
Don't have the latter?
Don't worry, this simple guide will walk you through it.
Step 1. Setup a Pinterest business account
Sign up to Pinterest for Business here and enter your holiday let details.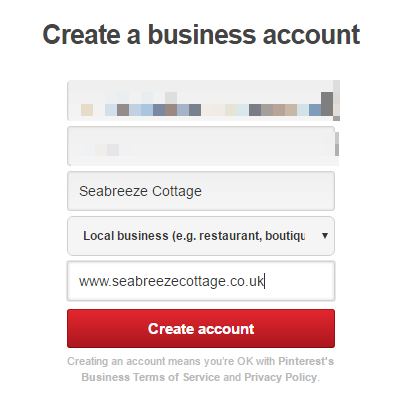 Before you can continue updating your profile, you'll see that Pinterest asks you to 'follow' five topics. These are topics that will be displayed on your home feed. So whilst they're not going to be seen by anyone else, it's a good idea to have them relevant to your business – not necessarily to you personally – as it'll provide an automated portal to find re-pinnable photos as soon as you log into your Pinterest account.
For example, home décor, travel, photography, furniture, and some that could be more specific to your type of accommodation or its location – back garden ideas, road trips, architecture, etc.
Select the best fit for your business and move on.
As we've said many times before, social media is all about being social. Don't be a one-way user. Share other people's pins and in turn, they may share yours.
For example, scenic photos of your local area pinned by others. Event pins that are going on nearby. Just remember to check who pinned the image in the first place – the last thing you want to do is re-pin a competitor's photo!
Now it's time to personalise – or business-ise – your account.
Step 2. Creating an effective profile
On the top right of your main dashboard area, you'll see a few icons displayed. Click the far right one, then My Profile followed by the edit button to start enhancing your profile.

Upload a business photo – the property itself or its stunning view – before continuing to complete each additional section. Remembering to provide good detail in the About field and include any of your chosen keywords, as well as your website address and contact details.
If you've added your website, you can also confirm ownership at this stage.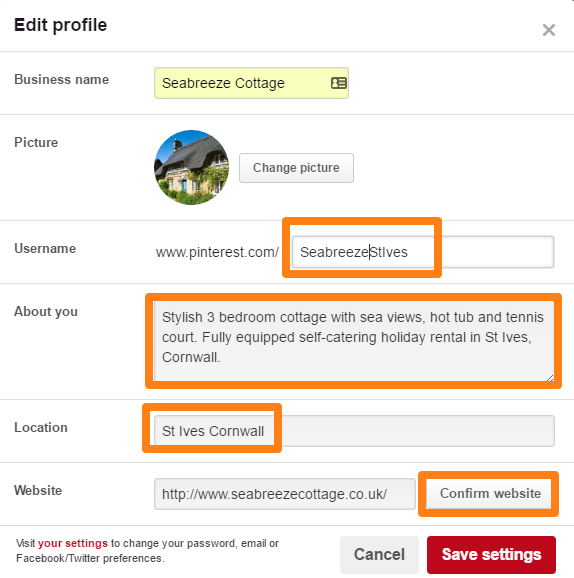 PROFILE TIP: You can change your username to one that's more memorable – as long as it remains within 9-15 characters. In the example above, the username has been changed from a Pinterest generated one – seabreeze06423 – to a personalised one that is more search-friendly – SeabreezeStIves
And that's it! Setup complete.
Step 3. Start 'pinning' photos
Now, since this is a highly visual platform, it's all about your photos. If you don't have any good quality ones, take some before going any further.
The objective of using Pinterest, just like any other online marketing tool, is to get bookings. To do that on Pinterest, you want people to like what they see.
'Pinning' i.e. sharing poor quality photos will not get your holiday let noticed in the way you want it to be.
So, if you've got a bunch of WOW factor photos to hand already, here are five tips of what you can do to maximise this marketing platform.
1. Create boards
Start by creating a few relevant boards.
The easiest one is most likely the local area. Be sure to set them up so it's clear what the board is about and that it is searchable.
How?
By including keywords where possible.
According to Pinterest, 30% of content on Pinterest is found via searches.
So if we stick with the local area example, make it searchable by including location centric words and phrases.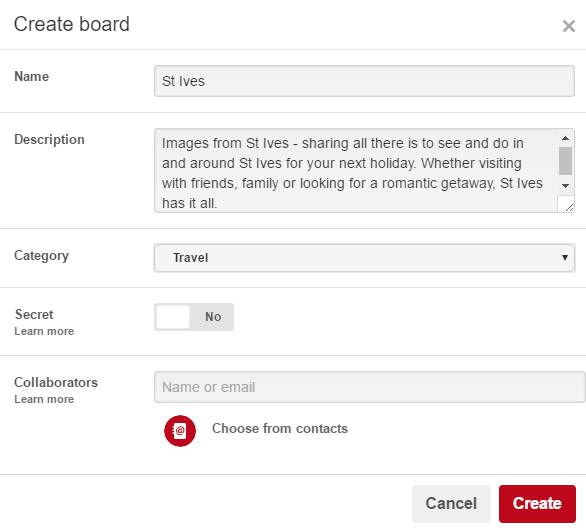 2. Upload photos
Once a few boards are in place, upload – i.e. pin – relevant good quality photos to each of them.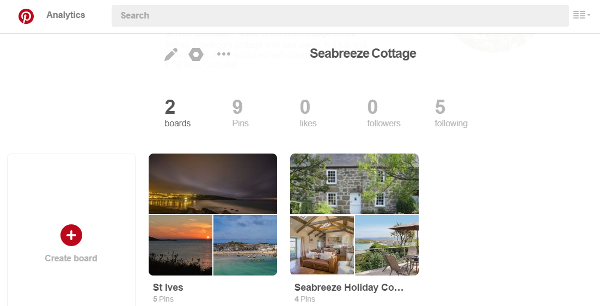 And remember to include a description for the photo that includes some keywords, as this will help your pins appear in Pinterest's search results – when adding scenic images, include the location. For property images, include the type of room and style it is.
BOARD ORGANISATION TIP: Place the most important boards at the start of your profile. As people find you, they will see those first.
Once you've got your first few boards live, it's time to finesse your Pinterest skills.
Here are a few tips:
Always use good quality, well-framed images that are shareable
Due to the layout of this site, Pinterest recommend uploading portrait images with an aspect ratio of 2:3 to 1:2.8 and at least 600px wide. Landscape images can also be uploaded; they just may not appear at their best
Try adding text over an image (whilst not covering the image) to help people understand what it is without clicking into the image
Include a call to action in the image description when relevant to do so e.g. "Like this view? Book your next St Ives holiday via our website today"
Pin regularly – as with any social media channel, it's important to continually add new photos, as well as re-pinning others
Step 4. Watch the numbers
Your own personal Pinterest Analytics, allows you to see what pins and boards get the most likes, comments, and re-pins.
Use this data to determine the photos that work, and those that don't. Then adjust your pin-plan to meet the demands of your audience.
And there you have it – our guide to getting started on Pinterest.
A highly visual social media platform that can help generate traffic to your website and ultimately, increase the exposure of your holiday rental.