After publishing your holiday rental website, many holiday let owners make the mistake of sitting back and expecting the enquiries to come flooding in.
Sadly this isn't likely to happen.
With so many websites online all competing for business, you need to think about how you can drive people to your website.
For example; you optimise your website with the best keywords. You get established on social media channels. You create a blog. You setup listings on free and paid-for sites. You submit guest blog articles. You may even spend a little money on advertising.
Phew! That's a lot of work.
So how can you find out which of your efforts are working and which are not?
By analysing the numbers, using Google Analytics.
Want to know how many people are visiting your website?
How they're finding your website?
What they're doing when they arrive on your website?
What pages they're visiting?
What source they're coming from?
How long they stay?
At what point they leave?
Google Analytics will tell you all this and more.
And the best thing – it's totally free!
So as soon as your website is live and you're ready to start promoting it online, setup your Google Analytics account to see where your website traffic is coming from and what exactly they're doing.
Here's how …
First, Create an account
Sign up with your Gmail account (if you don't have one go through the steps to register a Gmail account).

Set up a new account for your website and enter details into all the fields provided: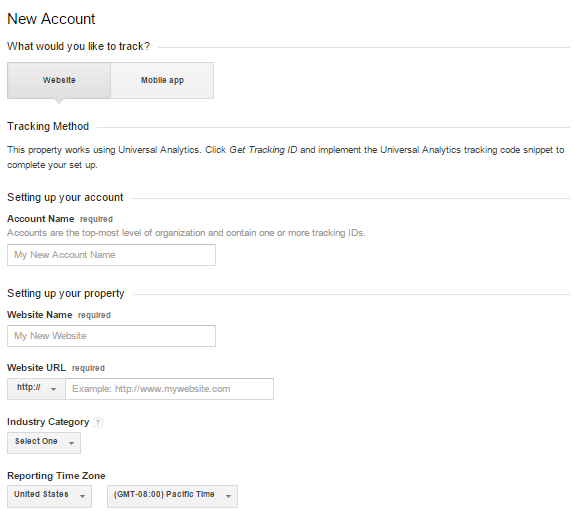 Once you've completed all sections, click Get Tracking ID
You will then be provided your unique Google Analytics Tracking ID and tracking HTML code.
If you're using a website builder it's possible you will have a section within your content management system where you can add your Google Analytics Tracking ID, if so copy it and paste it in to that relevant section.
If not, you may need to copy the website tracking HTML code and paste it into the code of every page you want to track.
To navigate back to your main Google Analytics dashboard, click on Google Analytics in the top left corner of the screen:

Then click into All Website Data to see your current stats.
Of course since you've only just set your account up, there'll be no stats to show.
The stats should arrive within 24 hours.
In the meantime you can take a look around the site and familiarise yourself with the data that can be obtained.
Data such as:
The location of the majority of your website visitors – this information ensures you target your marketing accordingly
The device your website visitors are using – if more traffic is coming from mobile devices, ensure your website and marketing are fully responsive
The source of your traffic – Google search, social media or another website link. Find out where to concentrate your efforts for greater success
What your visitors are doing once they arrive on your website – what pages they're visiting, how long they're staying, at what stage they're leaving
And so much more.
You don't need to be a big business to benefit from using this tool.
You should be reviewing your analytics regularly – at least once a month – to get an idea of how your website is being found and what people are doing when they arrive.
This arms you with information to help determine what marketing channels you should spend time on – knowing they're working.
Channels that target the right people. Channels that get traffic to your website.
Eager to learn more?
Check out Google's Training Academy to help you get the most out of this fantastic free tool.