Since publishing this post Google have changed, or at least strengthened, their view on holiday rental listings appearing on Google My Business. It now clearly states in their terms that holiday rentals are ineligible to be listed. Sales or leasing offices, however, are eligible for verification. So if your sales office is in the same town or village as your property, or you're running a B&B or guest house (sales office on site) this is still a great option.
Is your holiday accommodation listed on 'Google My Business'?
If the answer's yes then great.
There's no need to continue reading you're already benefiting from local SEO.
If not then it's time to listen up.
You could be missing out on the increased exposure that a page 1 position in Google will give you.
There's just one small caveat. If you're not comfortable about displaying the address of your accommodation online, then I'm afraid this isn't an option for you.
This is because the purpose of 'Google My Business' is to display local business listings when people search using location based keywords. Therefore an address is a pre-requisite.
But if you are prepared to show the address of your property, read on to find out how you can benefit.
First up, what exactly is Google My Business?
Google created Google My Business (formerly Google Places) to make their search results more location relevant.
This gives local businesses a better chance of appearing on page 1 of Google for location-based searches.
When you join, your holiday rental business is automatically given a local listing on Google Maps.
Which means that when a website visitor carries out a local search i.e. they include a location within the search, those businesses registered with 'Google My Business' will usually be displayed near the top of the page.
Most of the other non-local results or those not registered with 'Google My Business', will be displayed beneath.
How your holiday let business can benefit from 'Google My Business'
Let's give an example here to make it crystal clear.
Imagine you're looking for a place to stay in Salcombe. You might enter "holiday cottage salcombe" in the search bar:

In this example, appearing on page one of Google under the first three paid-for listings are the local listings. The Google My Business listings.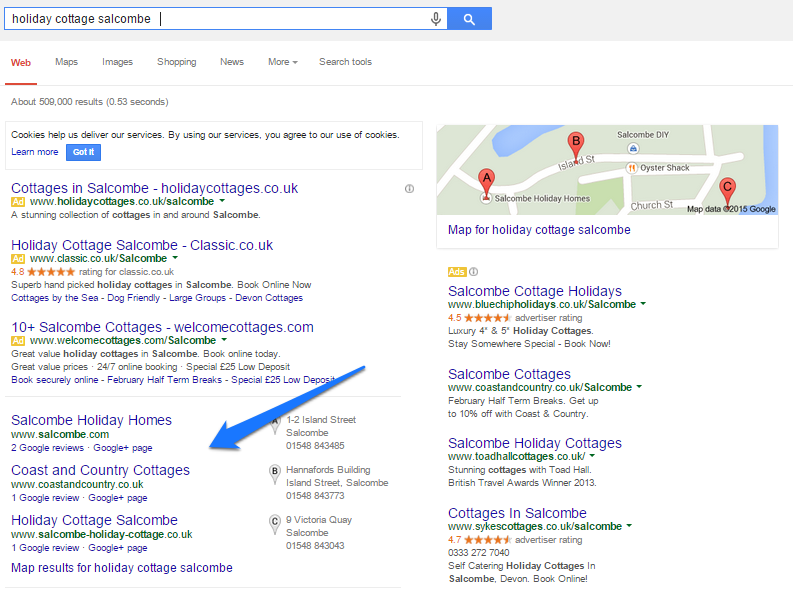 Where the local listings appear on page one does depend on the competition, but getting your listing anywhere on the first page is going to give your holiday let increased exposure.
The number of local listings that appear on page one, depends on the search term used. In this example, just three local listings are displayed.
But that's 3 more chances of your holiday let being among them. To appear on Page 1 of Google.
Another search may display more local listing results.
Either way, that's a pretty big incentive to list your holiday accommodation on 'Google My Business'.
But not only that, a listing automatically gives you a Google+ Business page. Here you can add photos, videos, encourage reviews, share updates and more … all of which will help increase your visibility in search results.
And one last thing – it's completely free!
How to set up your Google My Business listing
To get started, sign up to Google My Business.

Click 'Get on Google' and then enter your business name in the field provided – this will take you through to the next step.
Assuming your holiday let doesn't already appear, there'll be an option to add your business.
Enter all the details, and as you do so the location map will adjust to represent the location of your holiday let.
Complete all the relevant fields, paying particular attention to the category field. This field lets Google know whether to display your business in the search results.
Here are some possible category options:
Self-catering accommodation
Holiday Apartment
Holiday Apartment rental
Bed & Breakfast
Guest house
Take some time to decide which best fits your holiday let.
Once you're happy with all the details entered, Google will ask to verify your business. This is important because without verifying, your business won't ever get listed.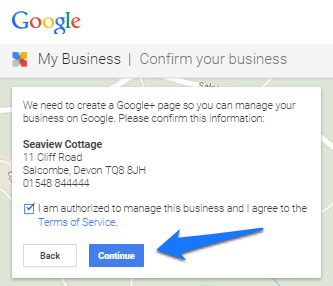 You'll receive a postcard to the address of your holiday rental. It will have a verification code on it that must be entered on to your Google+ business page within 28 days – so make sure you're nearby, heading there soon, or have someone who can pick the code up for you.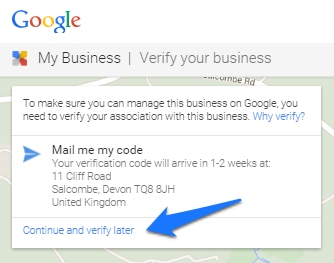 While you're waiting for the verification code to arrive, start creating your Google+ Business page.

Add a profile image – this could be a logo, the property or a profile shot of you, the owner
Add a short intro about your holiday let
Enter your website details
Upload photos
Upload a video tour (if you have one)
Add as much detail as you can. The more links you include to your website and other social media profiles, the greater chance your holiday has of appearing in Google's results.
Not only that, your Google+ Business page is an important extension of your social media network. Since it's owned by Google – the largest search engine in the world – updating it regularly could also improve your website's visibility in their search results.
You can:
1) Share updates about your holiday let – renovations, the new hot tub you've installed, great feedback from the last guest, etc.

2) Encourage past guests to leave a review
Social proof is known to be one of the quickest way to build trust. So don't be afraid to send your Google+ My Business page to past guests asking if they could leave a comment.
This review star rating is displayed alongside your page in the search engine results – so the more positive reviews you get on Google, the better your chances of getting more bookings. Plus these ratings will help your ranking in the local search results.

3) Promote local events
Any good local events coming up? Share them via your Google+ My Business page. Not only does this promote the local area, but also your holiday let. A great indirect way to tout for new business.
4) Create a poll
You can create a poll using your Google+ page to ask people what they think about something. It could be a local restaurant, activity or place of interest.
Or you could use it to decide what update to make to your holiday let next. This is a fun engaging way of getting people interacting with your business.
5) Share images and video
As with other social media networks, you can easily upload images and video to your Google+ My Business page.
Okay, so you've signed up and verified your business. All that's left is to sit back, relax and wait for your holiday let to appear on page one of Google, right?
Wrong.
Unfortunately there is a little more to it than that.
Unless your accommodation is located in a particularly uncompetitive area, or you've done quite a bit of SEO on your website already and are currently appearing on page two or three of Google, there is a little more work involved.
As we already pointed out, there's only a few local listings that will be displayed on page one of Google, without the website visitor clicking into the Google Maps results.
If you're in a particularly competitive location with plenty of holiday lets, you may find you don't appear. Not at first anyway.
So it's important to carry out a little bit of SEO on your own website. But this doesn't have to be as scary as it sounds.
Here's what you need to do:
Find out what words people are using to search for accommodation like yours in your location
Place them naturally throughout the content of your website
Complete the SEO section of your website

Page titles
Meta description
Keywords

Get some links pointing to your website from other relevant websites
With your 'Google My Business' listing and this SEO work, you're giving your business the best opportunity for appearing on page 1 of Google.
What are you waiting for?