Before we get in to the nitty gritty of how to appear in the two major search engines quicker, you have created the perfect holiday let website and published it so it's visible online, right?
If not, go over our last article on creating that perfect website and take action. Don't try to put the cart before the horse … it never works.
If you have published your holiday rental website and it's 'out there', fantastic, you're ready to move on.
But first, let's start with this …
There are over 180 million active websites on the Internet.
And let's say each of them has at least three web pages with optimised content – that's over 540 million active web pages.
Wow! That's a lot of web pages competing for eyeballs.
So what's this got to do with your holiday let website?
Well, while not all of those websites are competing with yours, some will be. And of those that are, they'll be optimising their website with similar keywords to you – location, nearby attractions, events, etc.
The main difference being the property itself and any unique selling points your property may have.
And how many results display on the first page of Google?
At most, ten.
If there are 'Google My Business' results then that number decreases.
But staying optimistic you have, at best, ten chances of your holiday rental website appearing on page one of Google.
Our point? Unfortunately the days of having a website on the World Wide Web without needing to do a bit of work, are long gone.
But all is not lost if you're prepared to put in a little effort.
Here is one step that you can do today, to appear in the search results quicker.
Submit your website's XML sitemap
FACT: As soon as you hit the 'Publish' button for your new website, it appears online.
Yes, 100% correct (assuming you've got your website hosting in place).
MYTH: As soon as your website appears online, you can do a Google search and it will appear in the search results instantly.
No, 100% wrong.
But why doesn't it appear in search results instantly?
It can take several weeks for Google (and other search engines) to index a new website so that it displays in any search results.
And the simple reason for this, is that search engine 'bots' need to:
Find your website, which takes time for new sites, then
Crawl through it to understand what it's all about in order to rank it appropriately for search results.
But the good news is that this process can be sped up.
Submitting your website's XML Sitemap to Google and Bing will help them 'find' it quicker and index it more easily.
How to submit your XML Sitemap to Google
Step 1 – Verify your website ownership
To do this, first create an account with Google Webmaster Tools

Then enter your website domain name into the field provided and click Add a site

The next step you'll be asked to verify ownership of your website.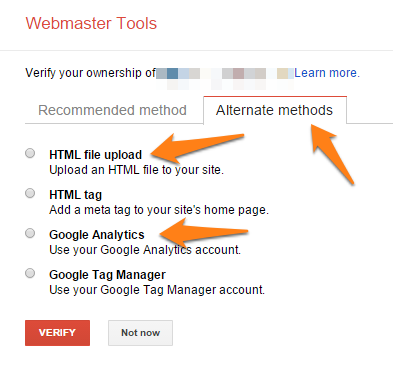 There are various options for doing this:
Recommended method
Alternative methods
Continuing with our theme of keeping things simple, we recommend two options for verifying your website which could be the recommended route, or you may have to click into Alternative Methods – the one you choose, depends on how much control you have over your website.
Option 1 – Upload an HTML file to your website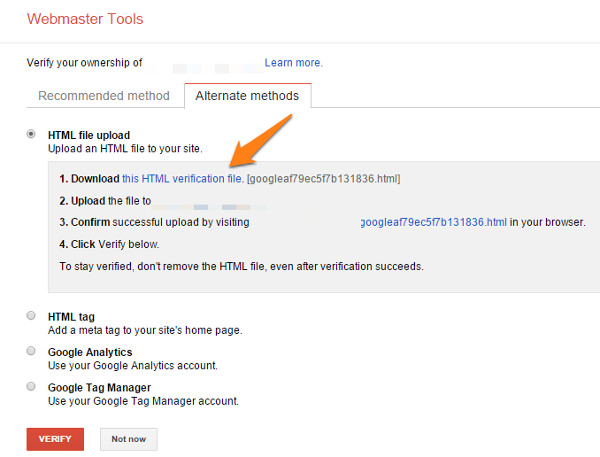 Follow the steps outlined …
1) Download the HTML verification file Webmaster Tools provide.
NB: Do not change the file name. Save it to your computer exactly as it has been given ready to upload to your website.
2) Log in to your website content management system and upload the file to the relevant section of your website.
3) Once uploaded successfully, go back to your Google Webmaster Tools page and click the red Verify button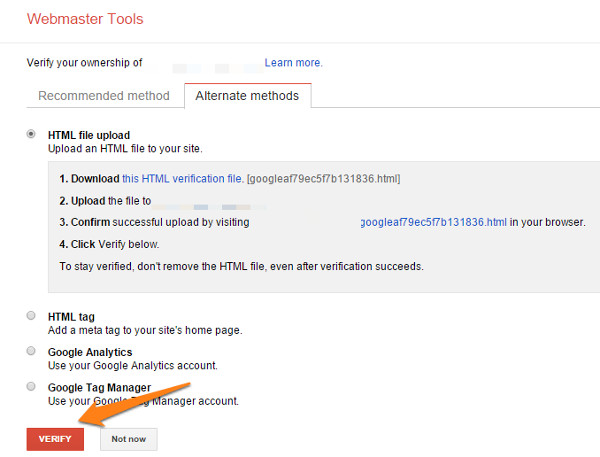 Option 2 – Verify using your Google Analytics account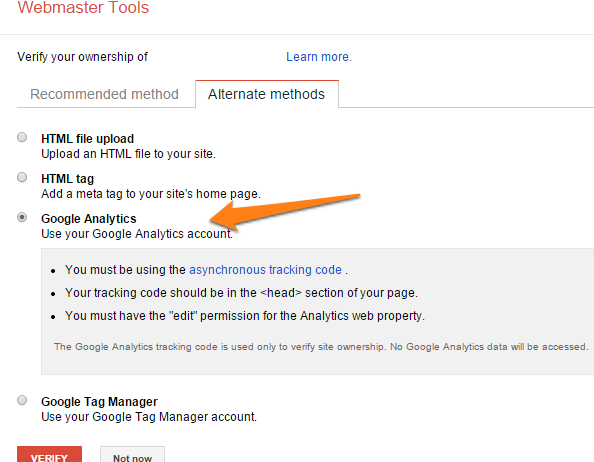 To use this method, you must have full access to your website source code, feel confident editing HTML code, and of course have a Google Analytics account already set up.
Or have a way to connect Google Analytics to your website – as our own website builder has.
Once you've added your Google tracking code to your website, click Verify and Google will do the rest.
Whichever route you choose, you should then have a successfully verified websit
In addition, Google Webmaster Tools recommends the following to maximise your sites performance in a Google search:
Adding both the "www" and "non-www" versions of your website
Once you're done, you can get on with submitting your XML sitemap.
But wait, does your website have a sitemap?
If you manage your website entirely yourself, the likelihood is that you'll need to generate a sitemap yourself.
If you're using PromoteMyPlace, luckily for you, a sitemap of your website is automatically created.
To find out whether your website already has a sitemap, enter your website address followed by /sitemap.xml into your browser.
For example: yourholidayrentalwebsite.com/sitemap.xml
If you see a page like the one displayed below, you know your website already has a sitemap and you're ready to submit it to Google and Bing.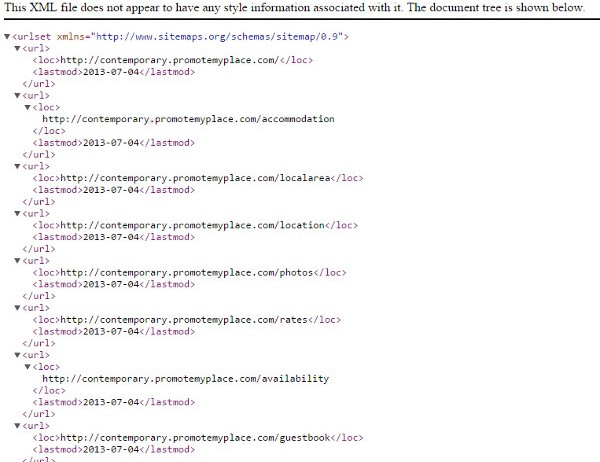 1. Submit your XML Sitemap to Google
Login to your Google Webmaster Tools account and click on your website domain name:

Then using the left hand menu, click into Crawl / Sitemaps
Click the button Add/Test Sitemap
And in the field provided, enter sitemap.xml, then click Submit Sitemap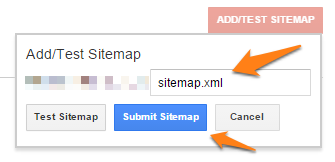 The next screen will tell you that you've successfully submitted your sitemap, but you may need to refresh the page for it to display.

Google is now aware of your website and will send its little bots out to trawl through it, quicker than it would have without going through these steps.
2. Submit your XML Sitemap to Bing
Whilst Google is certainly the search engine of choice, Bing comes in second place – so we'd suggest verifying website ownership and submitting your XML sitemap with them as well.
And here's how …
1) Sign in to Bing Webmaster Tools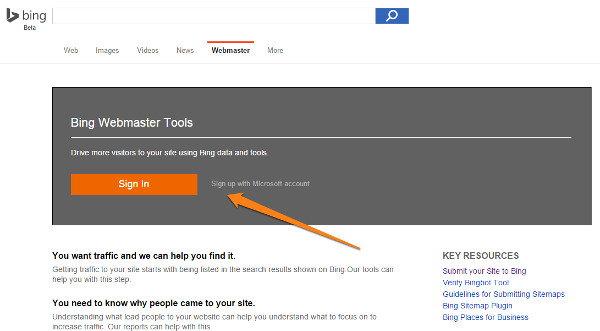 2) Click Add Your Site, then enter the relevant information, this will include your website sitemap URL – yourholidayrental.com/sitemap.xml

3) The next screen will give you various options for verifying website ownership.
If using a website builder, again our recommendation is to add the XML file provided to your website.
If you don't have that option and are managing your own website, you could copy and paste the HTML code provided into the <head> section of your website homepage.
4) Click Verify

Once redirected to your main dashboard, you should see your website sitemap status set to pending.
If not, simply add your sitemap again.

And that's it.
You've now verified your website with the two major search engines and submitted your sitemap, so your website should be indexed by them within the next few weeks.
But remember how many websites there are online?
Over 180 million active ones.
It's therefore important to make sure your website is optimised for search engines, so they have a clear understanding of what it is about.
It's also important to get some links pointing to your website from other sites, because each of this links counts as a vote in the eyes of Google and the more votes you have from quality sites the higher you will rank.
For more about Search Engine Optimisation see our blog series here.