What content are you sharing on your social media platforms?
Like many holiday rental owners, you're probably sharing your own carefully written blog articles that include information about your property, local events and write-ups about nearby attractions.
If you are, great.
All of this provides valuable information for your potential guests.
But they're not the only pieces of content you should be sharing.
Which is pretty good news really.
Because unless you're a keen writer with a lot of time on your hands, or your holiday rental is located in a place where something new happens practically every day, you're probably going to struggle to create the amount of content you need to post regularly on your social media accounts.
So what should you do as well as broadcast your own stuff?
Find relevant content from third party websites to share on your profiles.
And don't worry, this isn't cheating.
In fact, sharing other people's good content is what you should be doing – it's part of being 'social' on social media channels.
And it can even be particularly good for business …
… sharing informative, appropriate content from trusted sources can strengthen relationships:
With your followers by showing them you care that they receive relevant, interesting information.
With other businesses, by potentially forming alliances within the tourism industry through sharing each other's content, which could eventually lead to advocating one another's services.
Remember, if you're staying up-to-date with what's going on in the local area of your holiday let, and importantly sharing that information, your followers and guests can only benefit.
But it's all about finding great content to share.
So here are three ways you can share more content, whilst spending less time doing so.
1. Set up alerts
Use monitoring tools such as Google Alerts to notify you about new content regarding the local area.
Simply enter your local town or region along with your email address, then click the Create Alert button.

You can then customise alerts to be delivered as it happens, once a day or once a week.
And you can create as many alerts as you like – think close to the property as well as slightly further afield, for those who don't mind venturing out during their stay.
Bonus tip: Set up a separate email address specifically for your alerts. For the simple reason that you'll very likely start to receive lots of notifications, so having one dedicated email address will help keep them separate from your regular email. Whatever you do, don't use the same email address you use for your enquiries – if you do, you may accidentally miss an important booking notification.
Now think about your local area and region, and create some alerts to be instantly in-the-know … rather than searching around yourself, let Google do the hard-work for you!
2. Follow the top websites
Use your own social media profiles to follow the top websites for your local area. Then when they post new updates, you can easily share it with your own audience.
Going back to our earlier Lake District example, marketing a holiday let in that location would lead me to follow sites like:
National Trust Lake District
Lake District National Park
Cumbria Tourism
Lake District News
Lake District Walker
And the list goes on.
Now, find any sites that are relevant to you – both the local town, as well as branching further afield to cover your entire local region.
Think about specific activities – walking, biking, water sports, etc. – as well as tourism sites and local businesses. Some may not broadcast every day, but as long as there's recent activity on their account, it may be worth following just in case.
Then remember to log-in daily and do a quick check to see if they've broadcast content you could read, comment on and share.
3. Use the search tools on Twitter, Facebook and Google Plus
For any of the social media sites you have a profile with, simply log in and use their search facility to find new content.
As you did with Google Alerts, enter your search in the field provided and wait for the results to display.
For example, type Lake District in to see what's being shared and talked about for that location.
Via Facebook: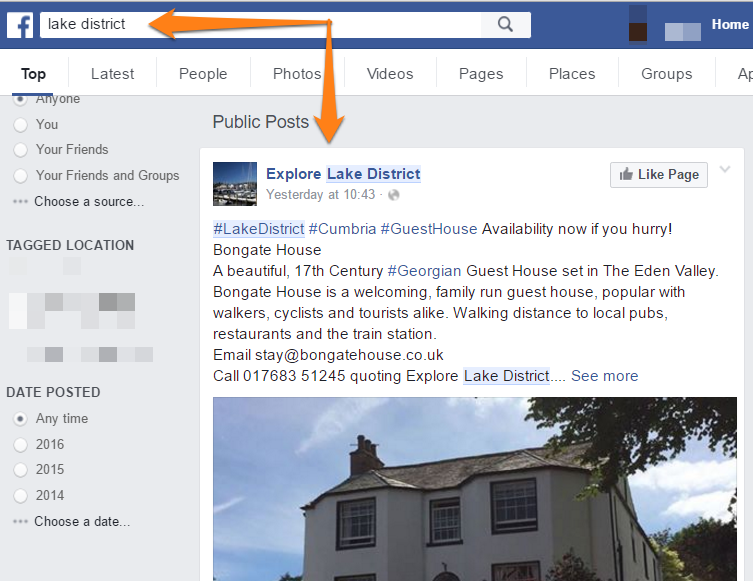 Via Twitter: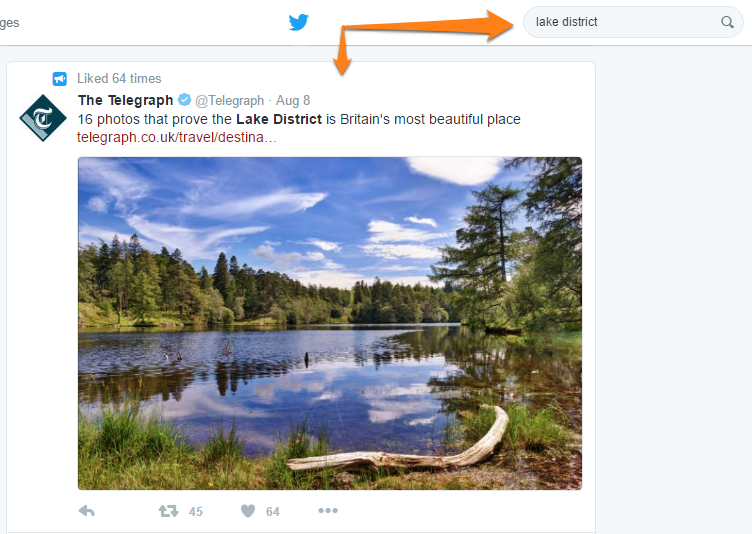 Via Google+: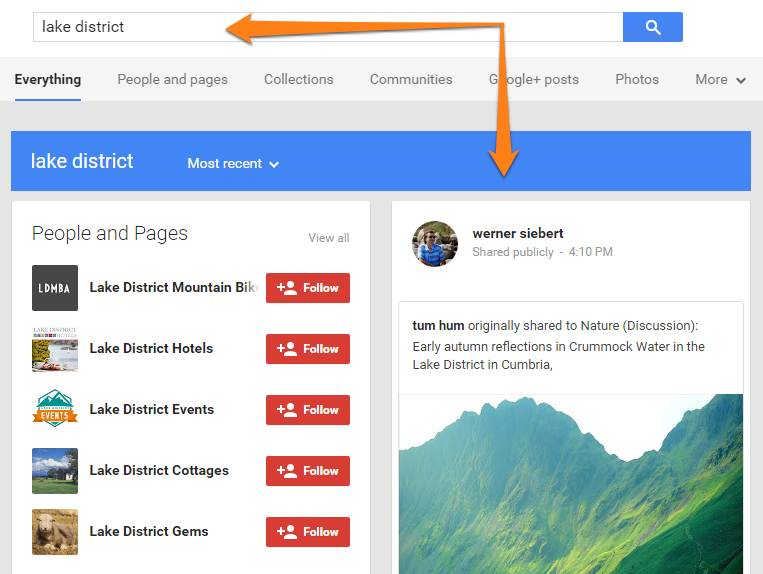 You could also try entering the top local attractions to find out if they're hosting anything special in the near future that could be shared with your guests.
By using each of these tools to find and share content, your social media marketing life just got a whole lot easier.
And remember these top tips when sharing third party content:
Assess the source's credibility – make sure you're happy to share content from that site, as you will be seen to be advocating them in a small way
Always read the article in full before sharing – to make sure it is something you actually want to share, and doesn't have anything negative or bad-for-business contained deep within it
Add your own intro / comments before sharing – this shows you've read it and gives your audience the reason why your sharing it
Include via or from and the source name before sharing – this shows you don't own the content and it gives kudos to the business who did … who knows, in time they may reciprocate